Our law firm is proud to announce that KSN attorney Diane Silverberg is the recipient of a 2022 Award for Excellence in Pro Bono and Public Interest Service.
Presented by the Judges of the United States District Court for the Northern District of Illinois and the Chicago Chapter of the Federal Bar Association, the award honors lawyers who have served the court and the community by providing pro bono representation and advocacy.
The ceremony for the twenty-second annual Awards for Excellence in Pro Bono and Public Interest Ceremony was held on June, 1, 2022 at the Everett McKinley Dirksen United States Courthouse in Chicago, Illinois.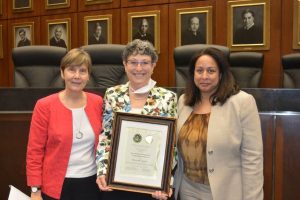 About KSN attorney Diane Silverberg:
Diane concentrates her practice in matters of complex business and real estate litigation and appeals, with an emphasis on community associations. With over thirty years of litigation and appellate experience, she is able to evaluate the relative strengths and weaknesses of her clients' cases thoroughly and efficiently, thereby helping them arrive at an early understanding of their legal options and likely outcomes, along with an estimated cost of representation through resolution.
Diane is a tireless advocate for her clients, yet strives to maintain civility in the litigation process, which has contributed to her earning a preeminent "AV" rating from the lawyer directory Martindale-Hubbell. Indeed, after Diane won a lengthy jury trial, defeating claims for damages against her client in excess of $3 million and recovering nearly $500,000 in legal fees for her client, the judge went on record as saying that Diane "was a bargain at any price".
In addition to handling cases from inception through trial and appeal, Diane enjoys mentoring attorneys, both at Kovitz Shifrin Nesbit and outside the firm. Her experience in this regard has included her serving as the final exam judge for a trial advocacy class at Loyola University Chicago School of Law and as a mediation judge for the 2014 Regional ABA Representation in Mediation Competition hosted by the ABA and The John Marshall Law School, Center for Advocacy and Dispute Resolution. Diane also serves as a mentor for the Women's Bar Association of Illinois.
Please note the material contained in this article is for educational and informational purposes only and does not constitute legal advice. No attorney-client relationship is established by your review or receipt of the information contained in this article. You should not act on the information discussed in this article without first obtaining legal advice from an attorney duly licensed to practice law in your State. While KSN has made every effort to include up-to-date information in this article, the law can change quickly. Accordingly, please understand that information discussed in this article may not yet reflect the most recent legal developments. Material is not guaranteed to be correct, complete, or up to date. KSN reserves the right to revise or update the information and statements of law discussed in the article law at any time, without notice, and disclaims any liability for your use of information or statements of law discussed on the article, or the accessibility of the article generally. This article may be considered advertising in some jurisdictions under applicable law/s and/or ethical rules/regulations. © 2022 Kovitz Shifrin Nesbit, A Professional Corporation.